Verbier might be the celeb resort of the Four Valleys, Switzerland, but it's neighbouring Haute-Nendaz that is the understated champion. The destination for discerning skiers and snowboarders, and home to some of the world's best off piste skiing.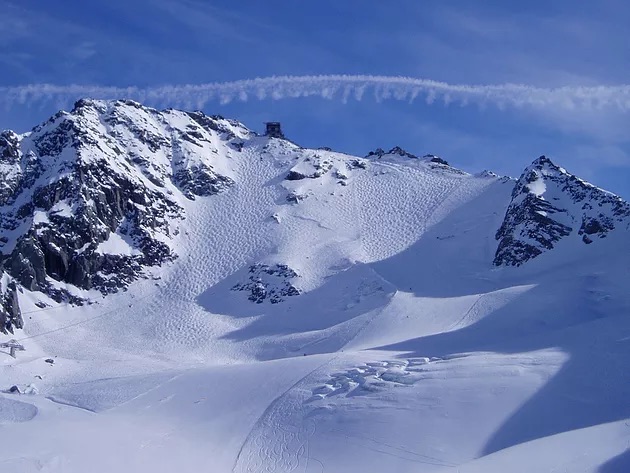 Haute-Nendaz, or Nendaz sits at an altitude of 1365 metres above the town of Sion, at the very heart of the iconic Four Valleys. Its central position makes it possible to ski from Nendaz to Verbier, and across to the eastern valleys of Veysonnaz and Thyon. In fact there is over 400km of piste to explore.
The scenery is spectacular and ski conditions suit all levels from beginners through to advanced skiers. Nendaz is ideal for family ski holidays, with three good ski schools in the village. We'll be happy to book your lessons before you arrive.
And if you enjoy off piste and backcountry terrain you NEED to pay a visit to Nendaz, where you can revel in the snow-sure landscape of the Mont Fort peak (photo) at an electrifying altitude of 3330 metres.
Skiers can get an all area ski lift pass, which permits access to the pistes of Nendaz, Verbier, Thyon, Siviez and Veysonnaz.
The picturesque village of Haute-Nendaz is small, yet perfectly formed. Relatively untouched by mainstream tourism, it provides a good selection of restaurants and bars. There are also a couple of discos thrown in for good measure; although nothing to ruin the family vibe that sets Nendaz apart from the busier Swiss resorts.
And if a few hour's break from the piste beckons, you'll find a spa, skating rink and climbing tower to keep you occupied. Or just relax in our private hammam and Jacuzzi.
Nendaz has everything to satisfy the savvy skier who chooses serious skiing over being seen.